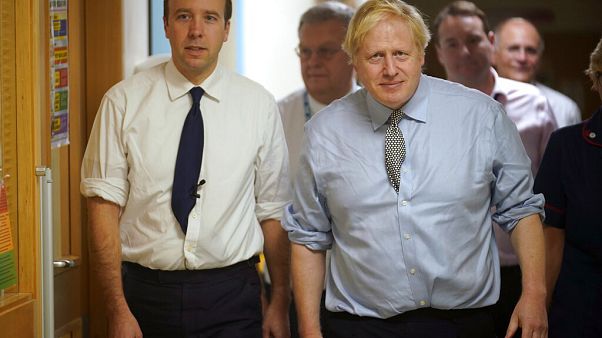 Matt Hancock and Boris Johnson (Image: Euronews)

There is a phase that always makes my blood boil; "It's not what you know, it's who you know." I absolutely hate it because it is common practice in many industries, including the one I work in. When I first stepped into the public relations (PR) arena, I was often told that I'd have to know someone influential in the field in order to be considered for a foot on the ladder, or at least have a contact book full of journalists.
Even now, many organisations looking for PR professionals require future candidates to have people of influence they can have on speed dial. Many employers aren't looking for you, they're looking for your phone. It's a culture that's gotten on my nerves for years, but I appreciate that the buck starts with the people in power, which therefore other sectors echo.
Up until recently, there was never an active buzzword to truly describe the scenarios I describe above. It is only thanks to Covid-19 where it's now a favourite word for reporters - 'chumocracy'.
Okay, 'chumocracy' is an informal political term, but in reality, you see it in a lot of industries - and quite honestly, it's always been around, even retail. For those who want to break into a sector, it's a test of perseverance. In the case of Boris Johnson's government, so long as you know someone of someone, you're offered a lucrative deal, regardless of your level of experience in that field.
The news that inspired me to rant about the above (and below), was the story around Health Secretary, Matt Hancock, giving former pub landlord Alex Bourne, a £30 million contract to manufacture tens of millions of plastic vials for Covid test kits. That would have been dandy if Bourne had experience in the medical sector, and that his business was capable of such a big scale task which was a matter of life and death. And it would have been nice if his company was considered against other organisations who were given an opportunity to pitch for a contract that juicy.
Instead, Bourne only got the job - reportedly - because he and Hancock were old neighbours and after a cosy chat on WhatsApp, his company is millions better off; it's as easy as that. Hancock has struggled to justify this particular appointment, but who could blame him, he's a Health Secretary without prior experience in health. He knows exactly what it's like to keep a job due to dropping own principles to back a prospective new boss with notable differences of opinion.
That's a common theme in Boris Johnson's cabinet - it has been argued (and justifiably) that those on his front-bench are those considered to be his allies, those who campaigned for what he did - those who, like Johnson, backed the UK to leave the EU and who backed him to be Conservatives leader last year. Another one is Nadhim Zahawi - again, just hired as Parliamentary Under-Secretary of State for Covid Vaccine Deployment, despite the closest experience to the health sector he has is a degree in Chemical Engineering (I appreciate I'm clutching straws here). At least he's friends with Hancock.

Appointments like these are frustrating. Wouldn't it be great if a doctor, nurse or other clinician with heartfelt political ambitions take on a role as vital as either Home Secretary or one where you're making decisions on the delivery of key vaccines? Sadly, to work in politics, it appears you need to do a politics, law or economics degree at a top university. I don't know about you, but I'd be more assured if a Health Secretary graduated in chemistry or science, and had work experience in that field. They'd be in a better position to change policy influenced by their knowledge base. I can say the same about Department of Education, in that it'd be much better to allow a former headteacher of a state school to lead such a vital team.

Being a politician is a big job and it's so much more than knowing how to act presidential. They have arguably the heaviest responsibilities, even heavier than CEOs of multibillion pound businesses. A CEO's responsibility is to be responsible for their employees; a politician (regardless of their scale) is responsible for leading society as a whole. Matt Hancock has been brilliant in relying on bigwigs in the NHS and people like Chief Medical Officer Professor Chris Whitty to know about pandemics, otherwise he'd be like a fish out of water. If Whitty was Health Secretary, Covid-19 may have been better handled. We may not like the fact he's painting a more daunting picture of the pandemic, but we have to bite our tongues because he knows what he's talking about.

While politicians need experience in the field they're governing, they also need to be held accountable. So when Johnson ally Dominic Cummings, now ex-advisor to the Prime Minister, decided to break Covid-19 restrictions and travel to Barnard Castle for an 'eye test', there was an expectation that he would resign and hide away for a little bit. But he stayed until he left on his terms. It shouldn't be up to, say Sky News to set by example. The broadcaster suspended its big guns, Kay Burley and Beth Rigby, for breaking Covid restriction rules. It was a bold move by Sky, but regardless of who you are, you are held accountable for your actions and the decision (as much as it pains me because I admire Burley and Rigby) was justified.
The move by Sky should send shockwaves to Downing Street, as well as all political parties. It's important to follow the mantra; if you have the enthusiasm, drive and willingness to learn, very little should stop you for achieving your dreams. No 'chum' should stand in the way of others' hopes and ambitions.